Well,we are about half way through the month & it's going like this!!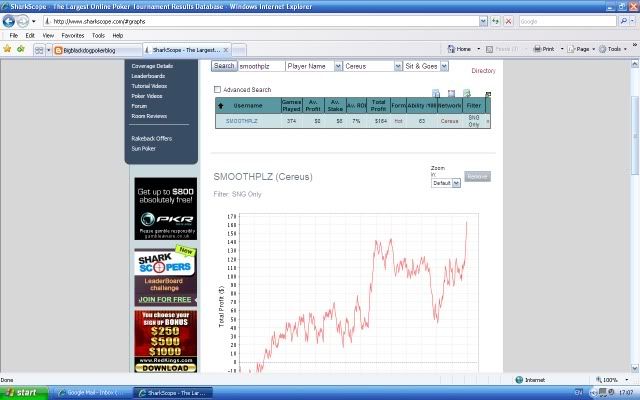 I'm doing ok if i say so myself, my overall BR is $250 (remember that i was gifted the 1st 50 bucks from UB so it's all mine!!! The good news is i'm just about properley rolled for the $5 games which does make my decisions a bit different. This would appear a bit weird as effectively i'm free rolling every game but i want to do well & succeed so i do play the best i can instead of thinking 'fuck it,its not my money!!!'
The extra money is coming via the volume,allthough nearly 400 games in 6 weeks is bugger all to you seasoned grinders,it's quite a lot to me!!! Also it helps me to dismiss the appalling beats that occur from time to time,if i was playing only 1 game at a time and got rivered by some numptys A4 v my AK it was a kick in the balls.....but by playing 3 or 4 games at once its still annoying but i just crack on with the other games!!
As you can see by a big dip in the graph,shit happened last week when fuck all held up & i basically got dry bummed,but hey ho,i pushed on & did better than before!!
So far then,jobs a good un,lets hope it continues & i can maybe push on a bit more.
p.s. ive just checked & the pictures shit!!..click on it & magnify your screen to 200 % and its a lot better.....this is mainly for Snake..........you blind sod!!!!!! lol
glgl to you all.
smoothplz.