Carrying on from my last post,Ultimate Bet might be unsuitable for us UK players in the evening as they have very little traffic.....but the standard must be uber shitty!!
This can be backed up as i managed another FT in their 5 buck tourney!!
4th to be precise & with a couple of bountys it was worth just under $50. It took 4 poxy hours to get there and my progress hasnt been meteoric but i'm still happy with my play.
Obv it could have been better.....i started the FT in 4th & wanted to play super aggro to chip up quickly. I then in the space of 6 hands jizzed off a huge chunk against the shortys. 1st running AK into A rag....obv the twat hits his rag,then AK again into JJ........obv i river the K but only after matey flops his 3rd J!!! *sigh*
So i'm now short but it goes mental including the 2 big stacks colliding plus some hero shoves & we are down to 4.
I exit when short shoving the lot with 77 v KQ that finds a K to kick me into touch....gg me!!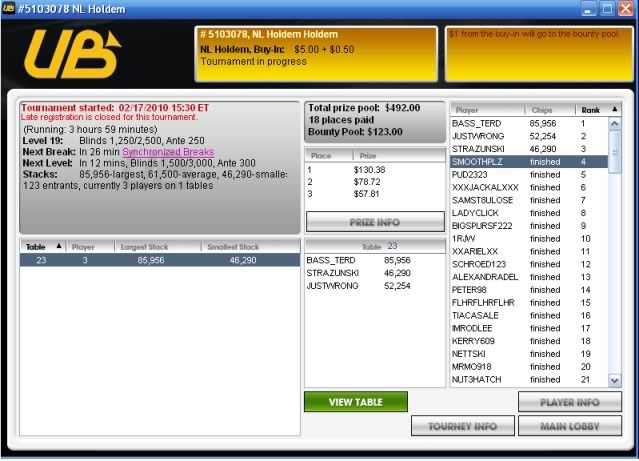 Interesting to see on Sharky that the 3 that finished above me are all in the red with negative ROI's (unlike me,brag,brag!!).......I'l be back mofos seeking revenge!!!!
Finally,we all know about the John Terry saga,loads of people slating him etc (gatsby even awarded him knob of the month.....allthough this was probably in honour of the tireless work his knob has been getting through just recently!!!!!!!)......now i might be a tad biased but like WTF..........Capello strips him of the captaincy but gives it to a clearly unfit geezer who not so long ago ''accidentaly'' ducks out of 2 (yes at least 2) official drugs tests....i wonder why he did that!!!!!!!
Ferdinand is never going to be properly match fit in time for the World Cup (or in my mind good enough) to replace JT as Captain...................Capello..you're a mug........get real!!!
Right.....i'm off to Birmingham on sunday for a week of boozing & missbehaving cunningly diguised as work,so maybe no more pokes this month,a post before i go showing my stats to date will follow in the next 2 days.
glgl to you all
smoothplz